Juno™ Bluetooth Smartphone Single Color LED Dimmer
Product Description
Juno™ Single Color LED Bluetooth Smartphone Controller | High Output 15A




Also Included: 2x RF controllers
The Juno™ Series Smartphone LED controller is to be used for single color output strip lights running on 6-24VDC. Say goodbye to cumbersome WiFi setups. This controller allows you to control your LED strip lights from your smartphone via a Bluetooth connection. Simply download and connect the ColorEasy1 Plus app on iOS or Android smartphones to control your lights.
Flicker Free: With a PWM frequency of 8000Hz, it is flicker free for video and photography uses.
Combo also includes:
The Juno™ Smartphone Controller also comes with two supplementary RF (Radio-Frequency) dimming controllers that provide on/off functionality and cycle through your App's preset color settings:
Handheld Remote Control w/ magnetic backing + Surface mount remote control w/ strong 3M adhesive backing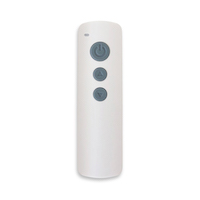 Smartphone Receiver Features:
Auto Circuit Protection

Flicker free 8000mHz: perfect for video and photography!

Support iOS & Android

Bluetooth Connection up to 10m

IP68 Waterproof receiver

Ultra-Slim Design

High Power Output of 15 amps

RF Remotes Included (Non-waterproof)

6-24V DC Voltage Range

3 Year Warranty
App Features and Modes:
Brightness Control




16 User Saved Presets

6 "smoothness" speeds for switching between user saved moves
SCREENSHOTS
Screenshots from the smartphone application (ColorEasy1Plus)
Note the 3 buttons at the top (On/Off, Favorites, Save Favorite) and the 2 at the bottom (Color, Setting) of the screen.
Brightness Modes: In the 'Color Mode', there is easy control of brightness with 255 distinct levels.
Screenshot 1: Brightness Selection
Press Star Button to View Saved Brightness Settings: The Star button at the top of the screen shows your programmed favorite colors. Up to 16 can be saved.
Screenshot 2: Select user-saved brightness levels
Saving a Brightness Level Setting: The saved favorite boxes wiggle when the Save Favorite button at the top right is pressed. The brightness level that is currently selected can be saved into 1 of the 16 boxes by selecting a box.
Screenshot 3: Saving the brightness level of your choice
Smooth Switching Speed: will control the delay speeds between the color rotations and mode switching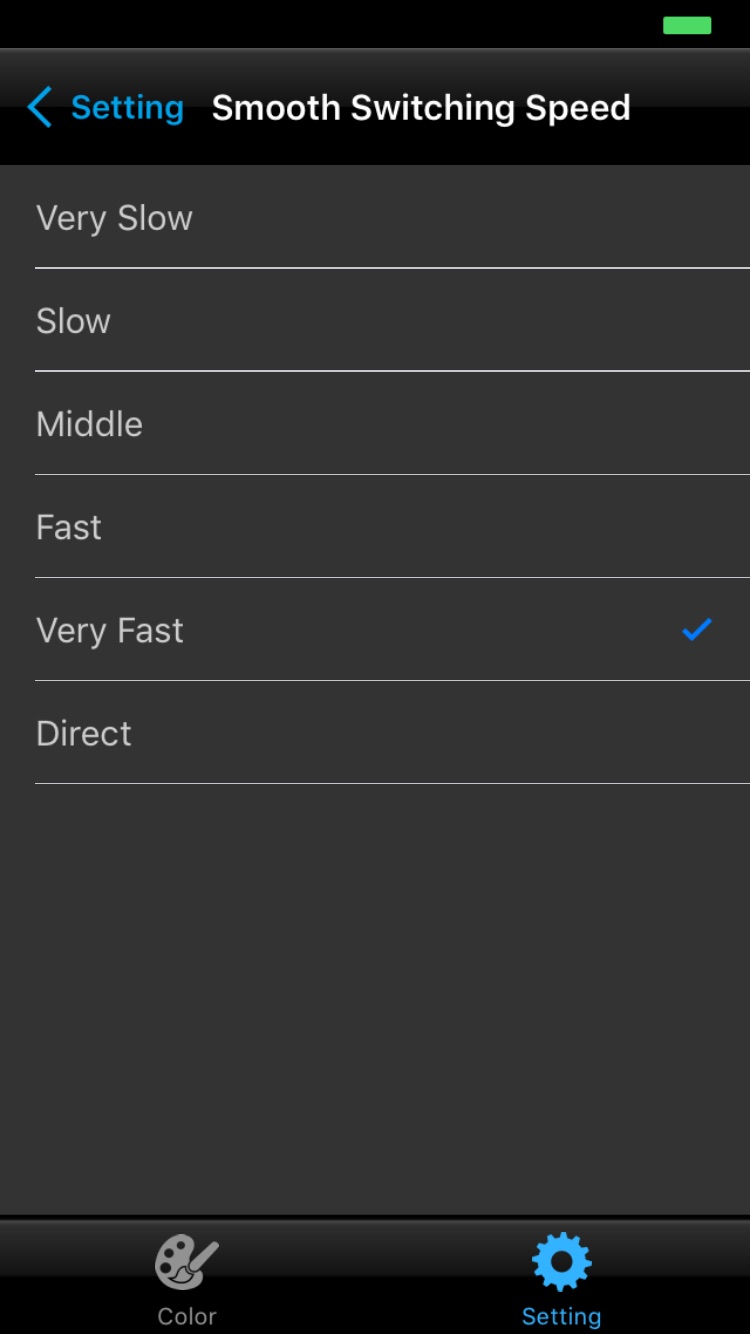 Screenshot 4: Smooth Scrolling Settings
SPECIFICATIONS
Juno™ Bluetooth Smartphone Controller Specifications
Bluetooth Controlled Receiver:
SKU: FF-JUN-APP-SC-COMBO
PWM Grade: 256 Levels
Connection Method: Bluetooth V2.1/4.0 Class 2
Smartphone OS: iOS or Android
Name of App: ColorEasy1Plus
PWM frequency: 8000 Hz (8KHz)
RF Remote: Yes
RF Remote Frequency: 433.92MHz
Auto Circuit Protection: Overload / Overheat / Short Circuit / Overcurrent
Working Voltage: 6-24VDC
Bluetooth Control Distance: >10m in open area
Rated Output Current: 15A (1x15A) |

12V: 180 watt max | 24V: 360 watt max

IP Rating: IP68 Waterproof
Warranty: 3 years
Radio Frequency (RF) Remotes:
RF Remote Frequency:

433.92MHz

RF Control Distance

: >100ft (30m) in open area

Dimensions of Handheld Remote

: 122x35x9mm

Dimensions of Surface Mount Remote:

72x45x9mm

Working Temperature:

-30 - 70

°

C

Certificate:

CE/RoHS
DOWNLOADS
Juno™ Bluetooth Smartphone Controller Downloads
FAQ
Juno™ Bluetooth Smartphone Controller Frequently Asked Questions
Coming soon

Specifications for this Hybrid LED light kit
| | |
| --- | --- |
| Product | Hybrid Bright White/Warm White LED Strip Light |
| Color Temperature | 2900K for Warm White and 6500K for Bright White |
| Lumen (Brightness) | 3450 Lumens per reel |
| Quantity per unit | You will receive a continuous 16ft section of lights |
| UL Listed? | Yes UL Listed, Must be used with class 2 power transformer |
| Working Voltage | 12v DC |
| Dimmability | Fully Dimmable |
| Beam Angle | 120 Degrees |
| Rigid or Flexible? | -Flexible installation up to 90 degrees. Used on curved surfaces |
| Power consumption | 2.92 watts per foot |
| UV emission | No |
| LED Count per reel | 600 LEDs |
| Warranty | 2 years |