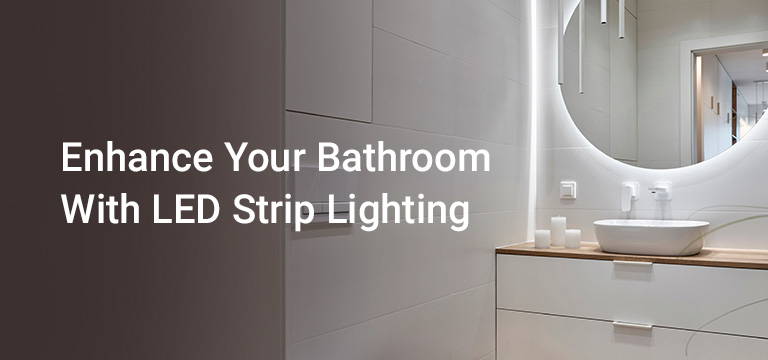 The Ultimate Guide to Design with LED Strip Lights in Your Bathroom
Author: Brenton Mauriello, CEO, Flexfire LEDs
Feb 21, 2023
As homeowners, we all want our bathrooms to be a relaxing and rejuvenating sanctuary. And while it's easy to focus on design elements like tiles, vanities, and showerheads, it's equally important to consider lighting in this space.
LED strip lighting has become a popular choice for homeowners and builders looking to add some extra illumination and style to their homes, offices, and other commercial spaces. We can all relate to walking into a bathroom and being surprised by how beautiful the lighting is. It creates a memorable and inviting experience. Installing LED strip lights in your bathroom is a great way to enhance the ambiance and create a relaxing spa-like atmosphere. With the right lighting, you can turn your bathroom into a serene retreat, perfect for unwinding after a long day.
In this article, we will guide you through everything you need to know about installing LED strip lighting in your bathroom, including:
Where to install LED strip lighting in your bathroom

Design tips and ideas for incorporating LED strip lighting into your bathroom décor

Understanding LED strip lights: color temperature and types available at Flexfire LEDs, and which ones are most commonly used in bathrooms

Controlling your LED strips
By the end of this article, you will have all the knowledge and inspiration you need to create a stunning and functional LED strip lighting scheme in your bathroom.
Top 10 Locations for Installing LED Strip Lights in Your Bathroom
We can place LED strip lighting in a variety of locations throughout your bathroom to create the perfect ambiance for your space. Transform your bathroom into a warm, inviting, and functional space.
Here are the top 10 locations to consider for installing LED strip lights in your bathroom:
Adds a modern and stylish touch while providing ample lighting for grooming.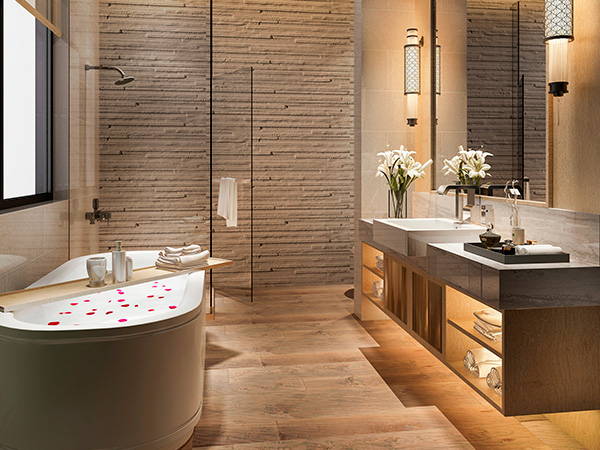 Creates a spa-like atmosphere with a warm and inviting glow.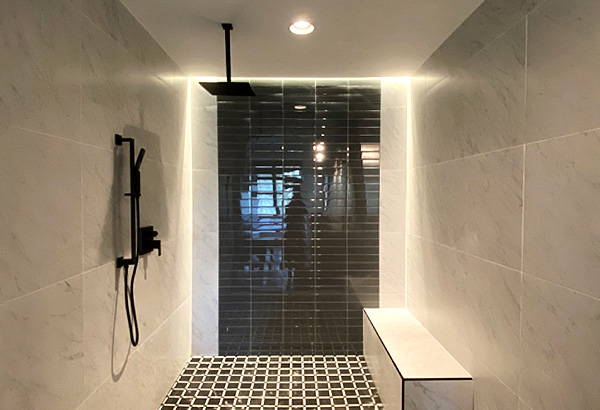 3. Around or Behind the Bathroom Mirror:
Highlight your reflection to make it easier for grooming and dressing with beautiful backlit mirrors. Using bright, high-output LED strip lights can be the main source of principal lighting in the bathroom.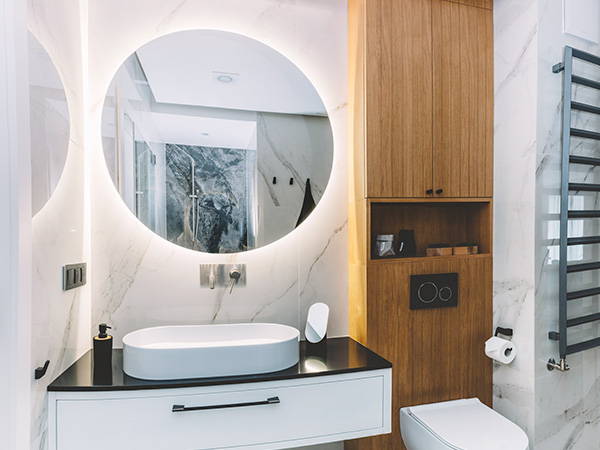 Creates a soft and subtle glow for a warm and inviting atmosphere.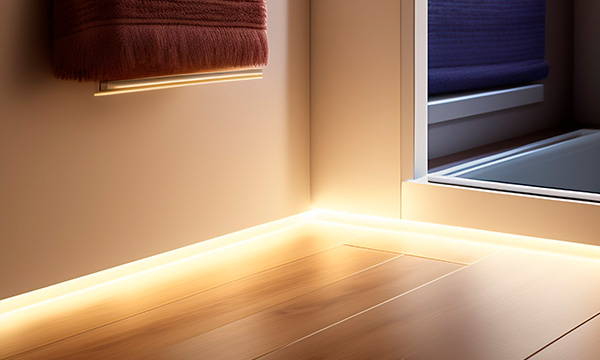 5. In Recessed Shelves or Wall/Shower Niches:
It highlights decorative elements and adds depth to your bathroom. Check local electric codes before installing inside the shower, and always use Wet Location Lights.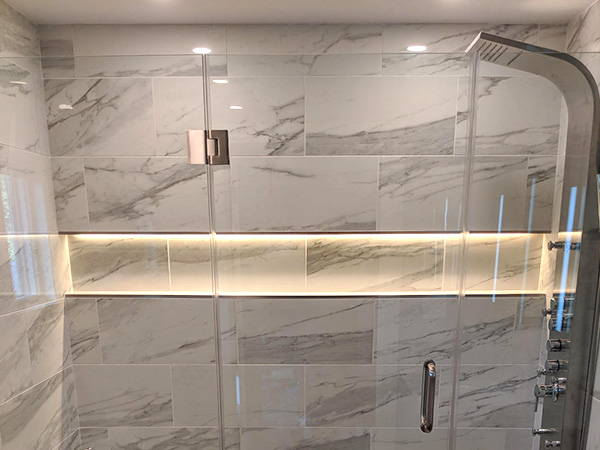 Provides a clean and modern look with ample overhead lighting. Placing lighting in coves or crown molding can also add sufficient bright indirect lighting to be used as the bathroom's primary lighting source while being able to be dimmed down for luxuriously relaxing downtime.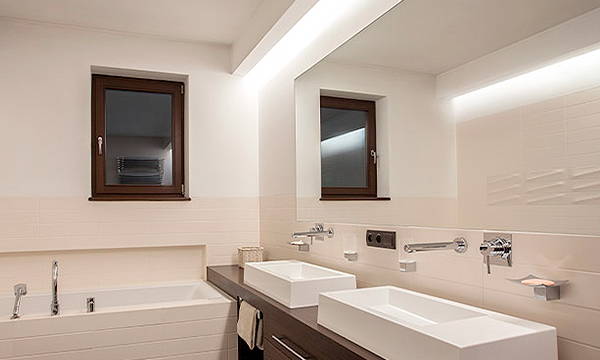 Creates a relaxing and tranquil atmosphere for a long soak.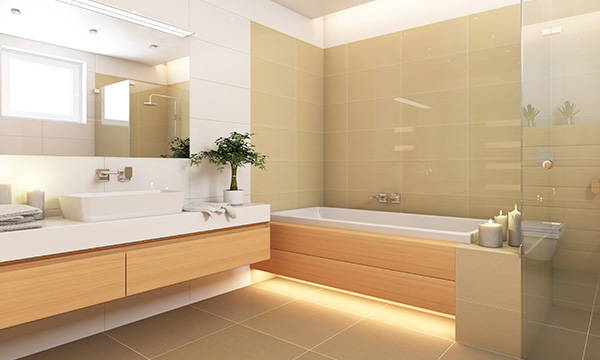 Provides a warm and inviting glow while highlighting the texture and detail of the panels.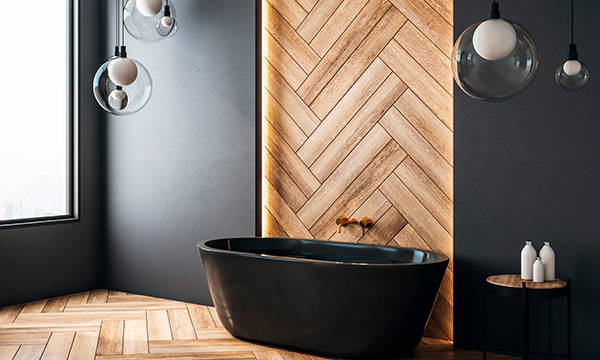 9. Under Cabinet Lighting:
Illuminate under the cabinets for easy cleaning and a soft glow. Choose high output LED strips, and you can use them as the main bathroom light.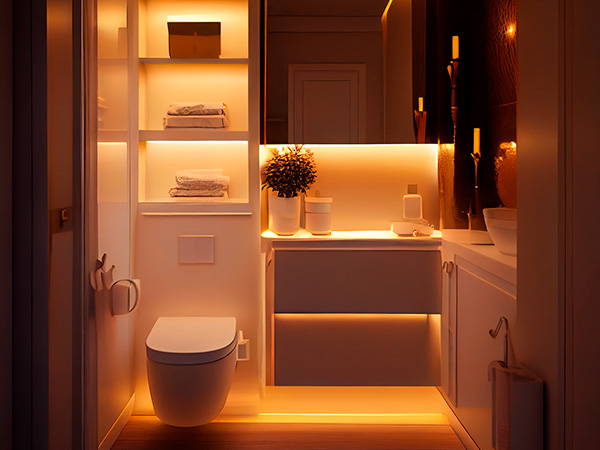 Creates a soft and warm glow around the toilet to make the bathroom feel more luxurious. Let no space go unlit.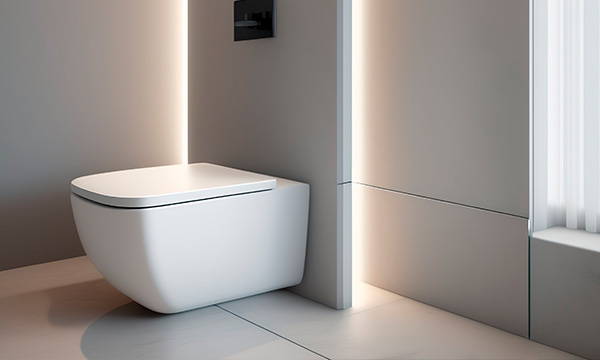 With these top 10 locations, you are sure to find the perfect spot for installing LED strip lights in your bathroom and transforming it into a beautiful and functional space.
When designing your optimal bathroom, first consider the day-to-day activities you will be doing there. A master bedroom bathroom will have different uses from a small bathroom for guests by the front door. You need to consider task lighting, accent lighting, and ambient lighting designs for your bathroom.
Task Lighting for a Practical Bathroom
Task lighting is essential in the bathroom for practicality and safety reasons. Mirrors, sinks, and showers all require bright and focused light for tasks such as grooming, applying makeup, and shaving.
To achieve optimal task lighting in your bathroom, consider installing LED strip lights above or below your mirror, in the coves, and recessed in an aluminum channel in the drywall.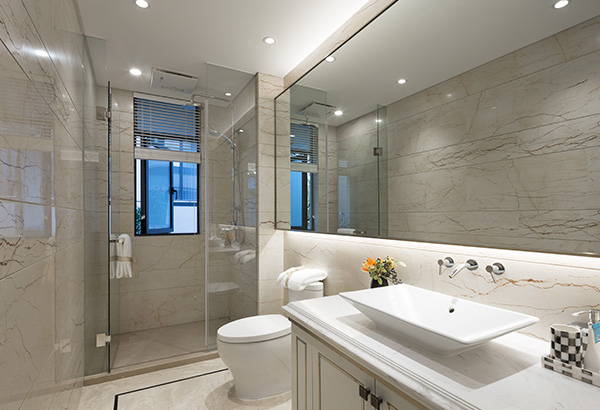 Ambient Lighting for a Relaxing Bathroom
While task lighting is essential, ambient lighting sets the mood in your bathroom and creates a relaxing atmosphere. Consider installing recessed lights or ceiling fixtures in addition to LED strips to provide overall illumination. Color-changing RGB LED strip lights are also used to produce brilliant colors and moods while soaking in the tub. Installing LED strip lights in shower niches can set the mood for a relaxing or invigorating bathing experience.
Accent Lighting for a Decorative Bathroom
Accent lighting is a great way to add depth and dimension to your bathroom, highlighting your favorite design elements and creating a warm and inviting space.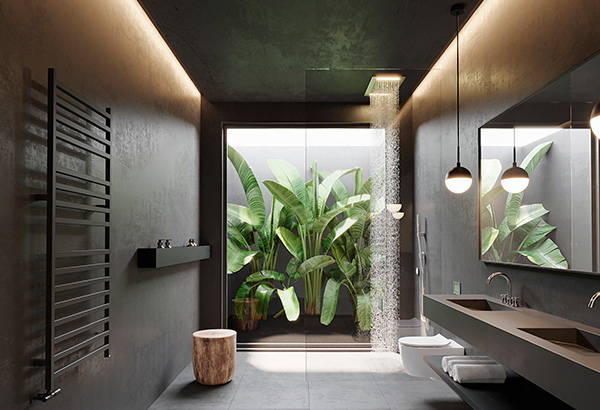 How to Choose the Best LED Strip Lights for Your Bathroom

When choosing LED strip lights for your bathroom, it's important to consider a few key factors.
Make sure the LED lights are rated for use in damp or wet environments, as bathrooms are prone to moisture and humidity.

Choose the appropriate output type, brightness, and control method for your LED lighting strips.

Consider again what you want the space to feel and look like: LED strip lighting can be used to complement and enhance your bathroom décor by highlighting specific features, such as artwork, tiles, or mirrors with accent lighting.
Types of LED Strip Lights

Once you are clear on the intent and location of the space you want to light, you can choose your LED lighting types. There are many options for outputs, brightness, and types of LED strip lights. Each type can create a specific ambience or effect.
Static White:
Static white LED strip lights emit a single, unchanging single-color temperature. Static white is ideal where a consistent color temperature is desired. For the home, the most popular color temperatures for the bathroom are 3000K and 4000K.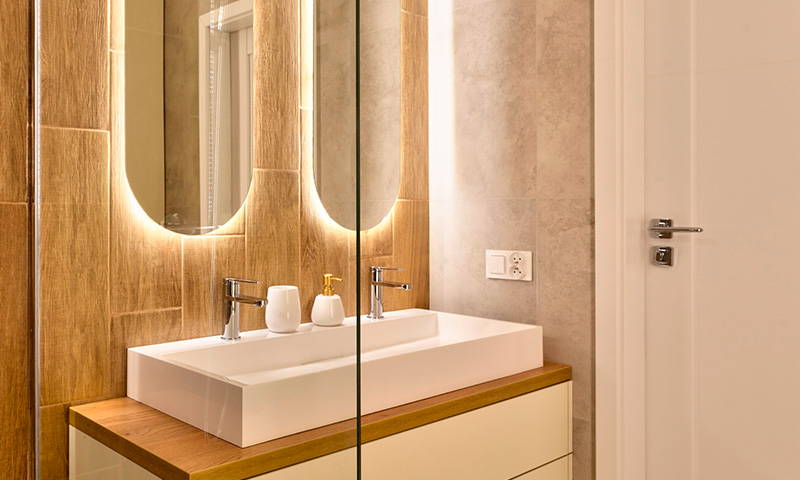 Tunable Dynamic White:
Tunable white lighting technology enables you to control the color temperature from a single light source. You can select the precise hue of white light that best meets your needs anywhere between warm white and cool white. You can even set timers to change hues at different times during the day.
RGB Color Changing:
RGB color-changing lighting gives you full control of any color you desire. You can create millions of colors or dynamic modes by pairing them with a controller. From dynamic to relaxing, you can set the mood in your space. In bathtub and jacuzzi areas, or behind the mirrors, a little RGB strip goes a long way in flooding the space with colored lighting.
There are many types of RGB lighting you can purchase, but here are a few terms to get them straight: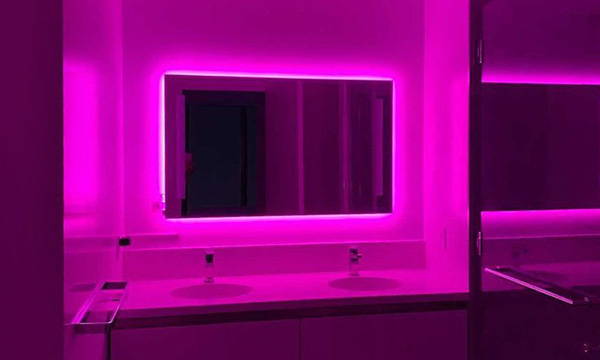 LED strip lights should provide enough brightness for your desired ambiance or the task you want to accomplish. Consider the room size, ceiling height, and the type of light you want. Brightness is measured in lumens. When comparing LEDs, make sure you know how many lumens per foot they emit.
As a general guideline, you can expect to need approximately:
80-100 lumens per foot for low accent lighting

150-300 lumens per foot for bright accents and low ambient lighting

300-400 lumens per foot for medium ambient/medium task lighting

350-500 lumens per foot for ambient and task lighting

700+ lumens per foot for high-brightness task lighting
If using Static White or Dynamic Tunable White, choose the right color temperature for your bathroom based on the desired atmosphere. Consider what other lighting you have or want in the area, as well as the natural colors of the building materials and paints. You do not want multiple different color temperatures in one space. Consistency is key.

Ultra Warm White (1800K–2500K) Candlelight-like. Creates a warm and cozy atmosphere, evoking feelings of intimacy, relaxation, and comfort

Warm White (2700K–3000K) for a warm and intimate atmosphere

Natural White (4000K) for a bright and functional look

Cool White (5000K) for a crisp and modern look
Color Rendering Index (CRI)

Color Rendering Index (CRI) measures how accurately a light source renders the colors of objects compared to natural sunlight. It rates the quality of light on a scale from 0 to 100. In applications where color accuracy is crucial, a high CRI is important.
We highly recommend a high CRI (90 or higher) for mirror lighting when using white lighting. Low CRI makes colors dull and hard to distinguish from each other.
Why do you need high CRI lighting in the bathroom?
The bathroom is an intimate space where we come face-to-face with ourselves in our bare and best forms. When getting ready, applying makeup, and trying on clothing, we must see colors in their true form. It also makes the paint, tiles, countertops, and art in your bathroom pop in full vibrant color.
LED strip light manufacturers should always list the CRI under their product specifications when selling white LEDs, so make sure when choosing white lighting that it has a CRI of over 90.
Durability, Safety, and Quality

Make sure to choose an LED strip light with a good warranty and durable construction, especially if it's going to be used in a wet or humid area like the bathroom.
In wet and damp areas, consider purchasing an IP65 weatherproof strip light. Make sure the lights are UL-listed for Wet Locations, as this will keep the project safe and long-lasting. Our IP65 wet location lights have a silicone cover that is splash-proof and easy to clean.
We also recommend using an LED strip that has at least 3 oz of copper on the PCB. This helps keep the LED's temperature down to prolong its life.
As a lot of bathroom lighting is installed in hard-to-reach places, choose an LED strip light with a good warranty. Our LED strip lights have up to a 15 year warranty, so you know that once they are professionally installed, you can enjoy them problem-free for many years.
Think about your daily interaction with the space and how you want to control it. Once your LED strip lights are installed, you will need to choose a method of control.
Options include:
Wall-mounted controllers and dimmers

Smart home systems, such as Amazon Alexa or Google Home

Sensors: occupancy, door sensors, etc.
For LED Strip Lighting, Why Choose Flexfire LEDs?

We believe that the right lighting can transform any space. Our LED strip lights are made of high-quality materials, are simple to install, and are available in a wide range of colors and lighting effects. We are dedicated to providing our customers with the best products and customer service, and we're confident that you'll love the results you get with our LED strip lights. We have the industry's longest warranty, and the friendliest customer service. Just read our reviews!
Chat with us and design your project for free!

We believe in doing things right and treating people right. Our experts (real humans!) are excited to help design your project for free or answer any questions about your project, our products, or our recommendations.
LED strip lighting is a great way to enhance the ambiance and functionality of your bathroom. With the right design, you can transform your bathroom into a relaxing and rejuvenating sanctuary.
When choosing LED strip lights for your bathroom, it's important to consider factors such as dampness, output, brightness, color temperature, color rendering index, durability, and control options.
With the information provided in this article, you can create a stunning and functional LED strip lighting scheme in your bathroom, whether you're highlighting specific features, creating a warm and inviting atmosphere, or providing bright task lighting.
Note: We always recommend hiring a licensed electrician or tradesman to complete any installation working with high voltage.