ED Projects and LED Examples - Customers LED Lighting projects
1. Chris from Vermont, USA created an LED light to use when he goes tent camping and also for emergency lighting. He used to 12V fluorescent lamps (12", F8T5DL) running off of a small (12 AH) 12V gel Pb/acid battery for lights in the tent (reading, contact lens, etc).
He decided he did not like the handware in the fluorescent lamps so he decided to give LEDs a try by stripping out the fluorescent bulb and driver board and install one foot of our Ultra Bright Series Flexible LED strip light. The Ultra Bright series has 37 LEDs per foot and emits 317 lumen per foot. (8.7 Lumen per LED). Below is his project: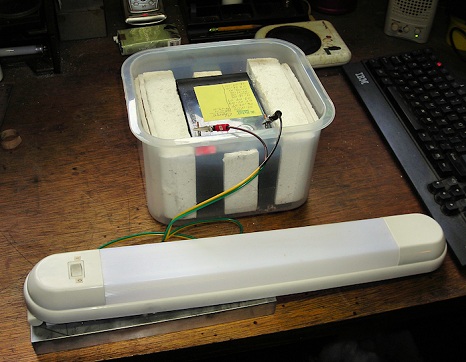 Case of fluorescent light converted to LED Ultra Bright LED flex strip used here.

Finished Project! LED Replacement vs Fluorescent Light
Please submit projects to Info@flexfireleds.com ATTN: Customer LED Projects