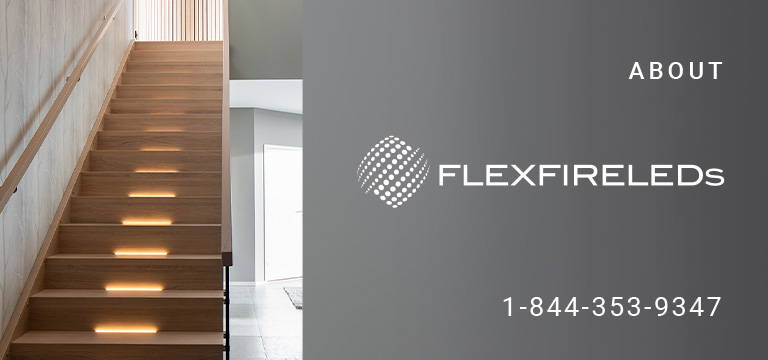 Flexfire LEDs is famous for creating unique interior and exterior lighting experiences by manufacturing and distributing our powerful linear LED strip lighting products. Trusted by the top design and construction firms world-wide, we are the leader in quality LED strip lighting solutions. We're just as crazy about quality components as we are our customer service.

1-844-353-9347
or (925) 273-9080

Phone support
Monday through Friday
from 6 a.m. to 5 p.m. Pacific Time
We promise to give you the best products with unparalleled service, every time, guaranteed.
You may have noticed our beautiful indirect lighting accents in the Bellagio Villas, Embassy Suites, Hilton, and Marriott properties, experienced them inside major international airports and duty free locations, or heard about how we assist the engineers and scientists at JPL, Northrop Grumman, Boeing, Bigelow Aerospace, and the Hyperloop project with extremely bright low profile task lighting. If not, there is a good probability you walked into a trendy shopping mall, retail store or beautiful home and noticed the crisp and beautiful lighting provided by our strips. Our strips are UL listed with a 7 to 15 year warranty.
Whatever the lighting challenge is, Flexfire LEDs is here to educate and provide a custom or out of the box solution. Don't just spec us, talk to us! We have a full design team in-house to answer any questions and turn your design ideas into realities. If you use Flexfire LEDs just once, you will never use another strip lighting company again.
Eleven beliefs that run Flexfire LEDs:

1. We don't just sell, we educate.

2. We obsess over our clients, not our competitors.


3. We are uncompromising about flawless lighting design.


4. We do not make recommendations we would not use ourselves.


5. We believe nothing is ever perfect, as it can always be improved.


6. We value curiosity and the exploration of ideas.

7. We speak the truth and deliver the raw facts.


8. We give ourselves the autonomy to be awesome.


9. We are selective about quality components.


10. We believe in work/life balance, not work vs. life.


11. We believe in the personal growth of our employees, suppliers, customers, and community.
Industry leaders: a few companies that choose Flexfire LEDs
• 3M
• Advanced Scientifics
• amazon.com
• AT&T
• Aviation Capital
• Bellagio Villas
• BOSCH
• Constant Aviation
• Department of Air Force
• Dow Chemical
• Dupont Optical
• Embassy Suites
• Florida Institute of Technology
• Ford Motor Design Center
• Google
• Gulf Stream Air Corporation
• Honda Aircraft Company
• Hyperloop Tech
• Image Manufacturing Group
• In-n-out burger
• International Paper
• Hyatt
• Jet Propulsion Laboratory
• Kohler Co.
• Leica
• Lockheed Martin
• Long Beach Airport
• Marriott & Royal Beach Casino
• Popcap Games
• Silent-Aire
• Smithsonian Institute
• TGI Fridays
• Thermo Fisher Scientific
• TimeWarner Cable Sports
• Qualcomm
• Royal Caribbean
• RSG Aerodesign LLC
• Sandia National Labs
• Sbarro
• Universal Instruments
• Walt Disney
• Xerox
• 3M
• Advanced Scientifics
• amazon.com
• AT&T
• Aviation Capital
• Bellagio Villas
• BOSCH
• Constant Aviation
• Department of Air Force
• Dow Chemical
• Dupont Optical
• Embassy Suites
• Florida Institute of Technology
• Ford Motor Design Center
• Google
• Gulf Stream Air Corporation
• Honda Aircraft Company
• Hyperloop Tech
• Image Manufacturing Group
• In-n-out burger
• International Paper
• Hyatt
• Jet Propulsion Laboratory
• Kohler Co.
• Leica
• Lockheed Martin
• Long Beach Airport
• Marriott & Royal Beach Casino
• Popcap Games
• Silent-Aire
• Smithsonian Institute
• TGI Fridays
• Thermo Fisher Scientific
• TimeWarner Cable Sports
• Qualcomm
• Royal Caribbean
• RSG Aerodesign LLC
• Sandia National Labs
• Sbarro
• Universal Instruments
• Walt Disney
• Xerox
Warehouse and Order Pickup (by appointment only): 3554 Business Park Dr, Suite F. Costa Mesa, CA 92626
Cage Code: 74EL4 / D & B: 06-312-7558 / NAICS Codes: 425110