Wireless Wall and Receiver for Single Color LEDs
Dimmer Introduction
Wireless Wall Mounted Dimmer
Wireless wall dimming is as easy to use as it is beautiful. The wall plate comes in a high gloss white finish. The minimalistic appearance makes the remote perfect in any design environment. With a dimming range of 0.1% - 100% you can control the brightness of your LED strip lights to create a perfect flicker-free setting. The wireless wall dimmer works with radio frequency (RF) and can dim the LEDs within 100ft of the receiver. Since it is wireless, it can be installed into any wall or cabinet and easily fits into existing North American receptacles.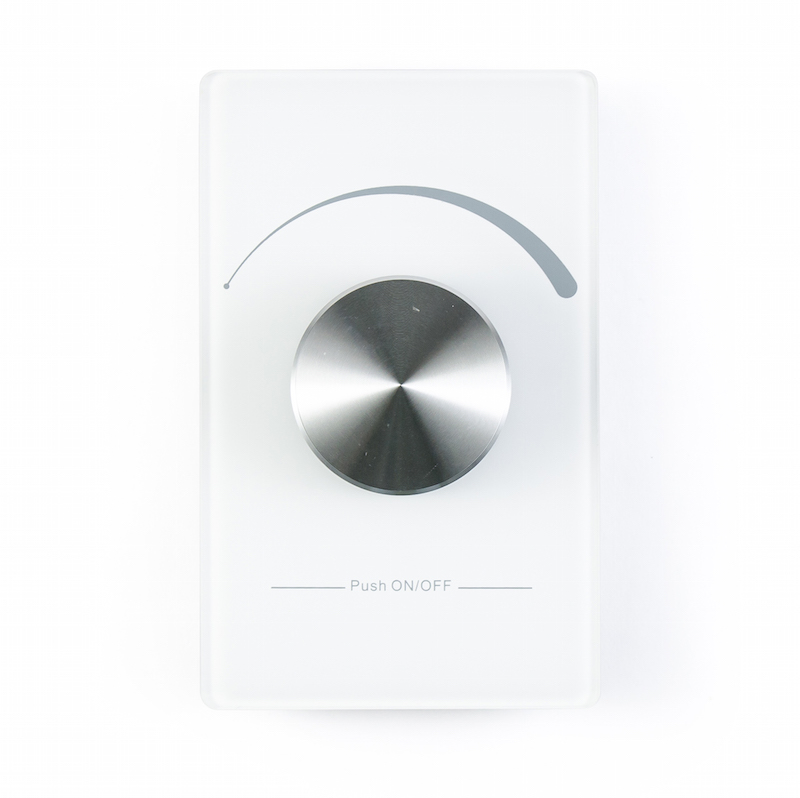 Receiver-2 Introduction
The in-line receivers create the PWM dimming signal that is input into the LED strip light. These receivers connect wirelessly to the Wall Dimming remote controls via Radio Frequency. The remote and receiver can work within a 100ft unobstructed distance (shorter if obstructed).
Characteristics of the Receiver-2
Receiver-2 has a power capacity to light a maximum of 384W when using 12V lights or 768W when using 24V lighting systems. There are four output channels allowing you to use the receiver to attach multiple runs of LED strip lights to one receiver. For larger projects using multiple LED strip light runs in one area, the Receiver-2 is recommended. It is recommended to use Receiver-2 for higher wattage LED strip lights, where a single run is using more than 96W.
Example: If you wanted to control lighting on a large living room cove, drop the lighting behind the TV and entertainment center, as well as some extended hallway lighting off a single power unit, the Receiver-2 would work great.
Functions
- Turn the rotary knob to the right to increase brightness
- Turn the rotary knob to the left to decrease brightness
- Quickly press and release the knob to turn your lights on/off
- Press and hold down the knob button for the 100% brightness setting

Need assistance?
Contact us here. We have a specialized and exceedingly helpful design team standing by to help you with your project!
Name: Wireless Wall Dimmer for Single Color Series
Product Dimensions: L: 4 ¾'' x W: 3'' x: D 1 ¾''
Weight: 0.36 lbs
Dimming Type: PWM
Signal Type: RF (Radio Frequency) 868MHz
Range: 100ft from receiver
Working Temperature: -20º F to 140º F
Name: In-Line Receiver-2 for Single Color Series LED strip lights
Product Dimensions: L: 6 11/16'' x W: 2 5/16'' x D: 1 3/16''
Weight: 0.45​​ lbs
Power Input: 12-36V DC
Maximum Wattage: 12V: 384W or 24V: 768W
Maximum Amps: 8A per channel
Number of Channels: 4
Working Temperature: -20º F to 140º F

Frequently Asked Questions:
Q: Can the LED dimmer work if there are walls between the receiver and the dimmer?
Yes. Because the dimmer uses radio frequency (RF), it does not need a line-of-sight with the receiver to work. Wall density and material may affect the signal strength. (Concrete is much harder to penetrate than wood and drywall)

Q: Will the receiver remember the last brightness setting when I turn it off and on again?
Yes. The receiver and remote are paired to remember the last setting.

Q: Can I install separate receivers in other areas and run them off of one remote?
Absolutely! We call everything that runs off of one remote a 'zone'. Each zone can be controlled with an endless amount of receivers.

Q: I want 2 remotes so I do not have to move it around all the time. Can I pair more than one remote to a single receiver?
Yes. Each receiver can be controlled by 8 different remotes.
Q: I want to control 10 receivers with one remote. Can I do that?
Yes. You can control an infinite number of receivers with one remote.