3 Foot RGB LED Strip Light Kit - Single Density RGB LEDs
This LED kit has been put together so you can easily set up RGB color changing LEDs in no time. With a million color combinations, the possibilities are endless! The LED RGB remote control is able to turn your LEDs a single color, or flash and scroll through many predesigned color patterns.
3 feet of RGB LEDs use 6.6 watts of electricity, thus needing an included 2 AMP power supply to power the entire strip. The power unit is large enough to add an additional 8 feet of LEDs if you wish. We also give you three LED solderless connectors to make installation a breeze and customizable. This is the most popular LED kit for bar and restaurant owners who want to add a new look to their business, or a college student decking out a dorm room or car.
The LED strip light kit can be cut every third LED. With our solderless connectors, you can easily attach just about anywhere.
Specifications on the LED Strip
Input voltage:100~240V
12v DC constant
Fully Dimmable
120' degree wide angled beam
1200 Lumen per 16.4 feet
2.2 watts per foot
No hazardous materials such as lead and mercury
NO UV emissions
150 SMD LEDs per 16 feet
UL, CE and RoHS certified
If you are just looking for RGB LED strip lights by the foot, then check out the product HERE
What is included? This RGB LED Kit Contains:
3 x Feet of UNCUT Color Changing LED RGB strip lights
3 x Solderless Connector Cables
1 x RGB Strip Light Color Changing Remote Control
1 x 2 AMP Power Unit (includes plug and wires)
1 x Female DC connector
How to Install
RGB Solderless Connector Installation Sheet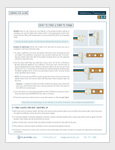 Right click to download
Connection Diagram

Why use RGB LEDs? ... and better yet, what is RG

B LED kit?
LEDs, or Light-Emitting Diodes, can come in a variety of colors. RGB LED chips use three different colors, R (Red) G (Green) and B (Blue), in different sequences to create many different colors. The LED RGB Remote that comes in the LED kit changes the brightness of each of the three colors to make any color possible. Sometimes when you purchase a solid color strip you cannot get the exact hue of you need for your project. The remote control offers fully customizable lighting solutions.
What uses are there for RGB LEDs?
RGB LED lights can be used to add an accent to any building exterior and draw attention to a business. They can be used as backlighting for televisions, computer monitors, and workspaces to reduce eye strain or just add an awesome color accent to create a modern look. RGB LEDs are usually a lot brighter than traditional colored lights and also last a LOT longer (50,000 hours). They are also used with much success for:
Accent lighting

Bathroom mirrors

Mood lighting

Inside cupboards

Kitchen lighting

Under cabinet lighting

Behind pictures

Loft lighting

Game room lighting

Under furniture such as raised couches

Behind TV or monitor lighting to reduce eye strain

MUCH MORE