LED Strip Light Voltage Drop: What is Voltage Drop and how to fix it.
One of the most important things to consider while installing a LED Strip lights is the effect of what is called "voltage drop". Low voltage lighting require voltage at the light fixture to be at 12 volts in this case. The longer the length from the light is to the transformer, the lower the voltage will be.
LED strip lights that are installed a few feet away from the power source should not be effected by voltage drop, but very long LED strip light lengths with long runs of cable may be require more careful voltage testing at the strip.
Example: If you are running over 40 feet of Colorbright LED strip light, or are using a long length of wire from the power source to the strip, the LEDs on the end of the strip light may appear dimmer than the LEDs near the front of the strip light. You would need to cut the strip at about 24-28 feet and insert 12V DC again with a solderless connector. The below diagram is from Elemental LEDs, giving an example of how to make a large LED installation.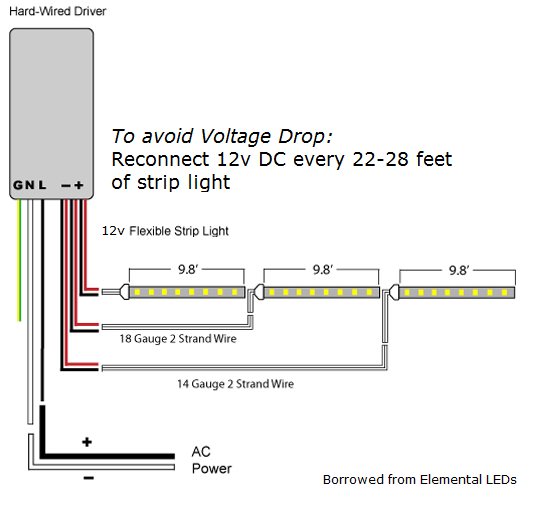 Maximum current - amps - through a 12V circuit in combination with size (AWG) and length of wire
http://www.engineeringtoolbox.com/amps-wire-gauge-d_730.html
To figure out which gauge wire you should use, see the chart below.
In an electrical systems the conductors should not be sized with voltage drops exceeding 3%. For a 12V system the maximum voltage drop should be less than 12 (V) x 3% = 0.36 (V).
The table below can be used to determine the combination of maximum current through a 12V electrical wire, size (AWG) and length of cable.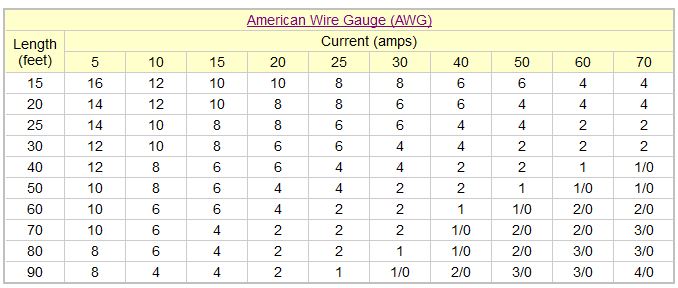 Note! Failure to use an adequate size may result in fire. Always secure a wire with a fuse.
Wire Gauge Design Procedure
Calculate the total length of the wire from the source to the device and back again

Determine the amount of current in the wire

Correct wire gauge is in the intersection of amps and feet
Note! The wire size is required for a 3% voltage drop in 12 Volt circuits. Oversize the wire if the voltage drop is critical.
VOLTAGE DROP AUTOMATIC CALCULATOR HERE --> http://www.supercircuits.com/resources/tools/voltageDrop