Flexible LED Strip light buying guide
How to choose a strip of lights 101

Do not buy until you understand this.
The use of flexible LED strip lights in American households is becoming more and more common as the price of light emitting diodes, or LEDs, drops and efficiency and quality goes up.
It's difficult to keep up with the market and to know what the most efficient and cost-effective product available is - even for us!
While there is no clear cut standard on how to choose strip of lights there are a few basic industry terms that you should become familiar with before you invest in what might not be the best bang for your buck.
1. LEDs per _____ (Meter, foot, strip, reel)? The number of LEDs I am actually getting
The first think you should look at is the "number of LEDs per…". This might be number of LEDs per meter or foot or reel (16.4ft or 5 meters = reel). Many companies will throw out numbers like 60 or 120 or 150 or 300 or 600 for their Flexible LED strip lights!
What do all these numbers mean and why should I care?
If you see 3 companies selling bright white flexible strip lights, you may just go for the cheaper one.
This however may not be the best choice. Company A sells a 5 meter reel with 150 LEDs per reel, at $89, Company B sells bright white flexible LED strip lights with 120 LEDs per meter at $119, and Company C sells bright white flexible LED strip lights with 60 LEDs per meter at $214.
Company B would be the best choice, because it has the most LEDs per reel. By the way, all of our ColorBright LED strip lights have 600 LEDs per reel.
2. Lumens? Aka Brightness to the human eye - Wikipedia on Lumens Here

This is usually a little more clear cut, but determining how many lumen a strip puts out can still be a little tricky if you've spent all day searching the best deal on your flexible LED strip lights.
In this category, sellers will also have different ways of saying the same thing. Because of the great variance of lights out there be sure to understand what the seller is referring to when discussing lumens. Lumens per foot, meter, reel? You should be asking "Lumens per what?"
3. Wattage
Power consumption is probably the number one reason we as a society have started a move to LEDs. Wattage tells us just how much power we are consuming while these lights are on and in turn how much we are going to have to pay at the end of the month.
Be sure to once again verify the wattage per foot, meter, or reel before you hit submit to release your credit card information.
It is easy to misread only 24 watts for a whole reel but then you get it and bam it's really 120 watts for the whole reel. The 24 watts was only for one meter.
And you bought a power supply good for only 30 watts?
All because the seller didn't list there info in an easy to read format. Also make sure you understand the voltage that the flexible LED strip lights will use.
An LED strip light that uses 24 volts will not work if you purchase a 12 volt power supply.
4. Cost
What is affecting cost of LED strip lights the most? The LED market is highly saturated with manufacturers and distributors with a varying quality, cost, and speficications.
Yes, you can go buy a waterproof LED flexible strip light from Amazon, but the reality is that you're probably buying it from someone that is also selling cheap LED bicycle lights.
Do you think that they can offer customer support or help with a custom install through email or over the phone?
And in two years when the lights go out are you really going to go after someone on eBay that you bought some lights from?
We all know that the answer is no.
You want a product that you can trust will produce a good clean light for years to come while saving you hard earned money. So what is the cost of purchasing from a random online seller? The risk is on you. You will likely get a lesser quality product, with no product support, with no real warranty.
Also beware of VERY high priced LED lights. What is different from a $100 reel and a $500 reel? Sometimes nothing at all! Please compare variables before choosing which LED strip light you should buy.
Other Considerations when choosing your LED strip lights:
Thermal Management - Have the LED strip lights been designed for proper thermal management and heat dissapation? If not, your 50,000 hour 'life span' just dropped to 10,000 or 20,000.

Product material safety - What materials have the manufacturers used in the production of the LED strip lights? How was it produced, and under what conditions. Look for CE and RoHS certifications at the minimum.

The BIG 4
When purchasing flexible LED strip lights there are really 4 main areas to concern yourself with and really compare before purchasing.
The color of the light is also important, but without holding the lights side by side, there is no real way to be sure you like one better than the other.
Even with a spec sheet with a light analysis you need to hold them side by side. Take your time, get the information, make an excel spread sheet if you have to and compare. With this little bit of information you are ready to buy flexible LED strip lights with confidence.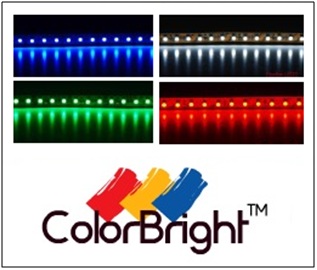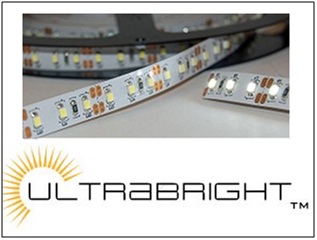 Single Color LED strip Lights Ultra Bright LED Strip Lights
600 LEDs per reel Brightest LEDs on the market!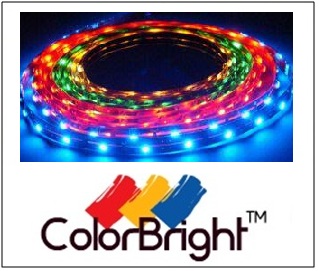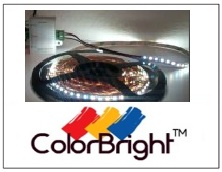 RGB Color Changing LEDs Hybrid LED strip Lights
Millions of colors, Very Bright Change between warm and Bright White