LED billboard lights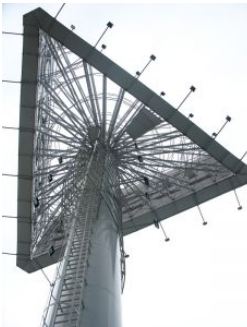 Why change your outdoor advertising lights to LEDs?
Many companies are beginning to take on a green initiative with their lighting by replacing old inefficient billboard lights with LED lights. What many do not realize is that even outdoor lighting such as billboard lighting can also be replaced as well as interior lighting. Zurik LED floodlights are amongst the best new energy efficiency products for outdoor LED billboard lighting. The following article will explain some of the advantages of switching over to these LED and some of the savings that a business owner could potentially have by making the switch.
Energy Savings and Payback Period of LED Billboard Lights
Not only are these LED bulbs able to produce a consistent and pleasing light for billboard advertisements, but the energy savings and reduced maintenance costs will allow a business owner to pay back the initial cost of the LED billboard lights and replacement of old bulbs in less than two years in savings alone! Flexfire LEDs allows you to purchase these LED flood lights in bulk, helping you save a lot of the initial cost.
For example 100W LED floodlights, operating on a number of different billboards at 12 hours a day will use only one quarter of the power that a traditional floodlight or spotlight would use on a billboard. Because of this, after covering the installation costs of the LED fixture, your energy savings will exponentially grow from there. You will also be helping the environment, as many have calculated that by replacing just 10 in efficient spotlights that is the equivalent of planting over 3 acres of trees in the amount of carbon emissions that are reduced through the replacement of the bulb.
Also, if you replaced your current outdoor advertising lights with (10) Zurik 100W LED billboard lights, over the first year, you would save $2,706.84 in electricity.
LED Billboard Lights last over 11 years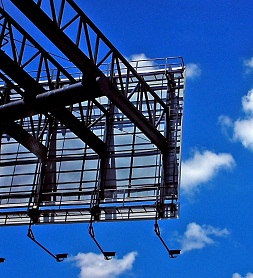 LED bulbs also tend to last much longer than traditional bulbs. A lifespan of a typical LED bulb is well over 50,000 hours of use, meaning that they will be less saving you money in maintenance fees and replacement fees. 50,000 hours of bulb life could mean that an LED light on one of your billboards could remain untouched for 11 to 12 years without needing any form of replacement or maintenance. Over the life of these 10 100W LED billboard lights, you would save over $27,000 in electricity alone!!!
LED billboard lights start instantly, do not produce much heat, do not attract bugs, and do not flicker!
LED bulbs are also very good at dissipating heat. On a hot day or evening very bright traditional bulbs can seat up and become potentially unsafe for workers in the area as well as pose a risk for fire. An LED billboard light uses only a fraction of the energy meaning that it will never get quite as hot and poses less of a risk in these areas. The start up of an LED bulb is also much faster at than some traditional floodlights with no flickering in an instant start up ensuring that all of the advertisements on your billboards are displayed in perfect lighting at all times. Also, these LED flood lights do not use UV or IR light spectrums, so bugs will not be attracted to them.
Switch To LEDs For Your Billboards and Outdoor Advertising Lights Today!
Changing over to LED lighting just makes sense. With the energy savings alone the cost of LED lighting replacement can pay for itself in less than two years in the energy savings alone. LED lighting is the environmentally responsible choice and also comes with a piece of mind knowing that you can set and forget your LED lighting without having to worry about it burning out or requiring maintenance to the same degree the traditional lighting in traditional bulbs do.
Most popular LED flood lights: