Zurik™ 120W Outdoor LED Flood Light Commercial Landscape Lights
USA Bridgelux LED chips, and UL Listed Transformer

Save $331 per year per 120w LED flood light unit.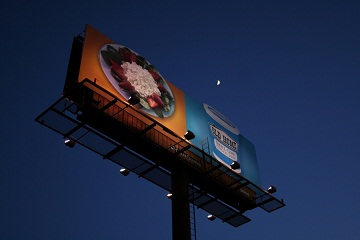 Example 120w LED Flood Light usage
This 120w outdoor LED flood lights is the LED replacement for the 480 watt traditional floodlights (Sodium/Metal Halide Lamps)
This 120w Outdoor LED flood light can now be the most efficient way to light your business, billboard, landscape, property, or, well... anything! Each outdoor LED flood light you will install will save you $$$ on both maintainence costs, replacement costs, and energy costs.
These 2012 Zurik High Power 120w LED flood lights perform with 120 degree high quality LED chips with over 100 Lumens per watt. The lighted area can be adjusted from the base of the LED flood light. These High Quality IP65 LED landscape flood lights use only 560 Watts and is capable of producing 11,000Lm light output which is the equivalent to a 450W light. The glass cover is 5mm waterproof glass and is resistant to environmental factors.
120w LED flood lights for FREE!?
Consider this: You can get them for free!
Well, not initially, but LED flood lights use MUCH less energy than other lighting systems. Think about this. Say you bought (10) 120w outdoor LED flood lights for your business, warehouse, tunnel, golf course, or home. You use them 12 hours a day, 365 days a year at $0.206 per KWH (Here in Los angeles, California).
At the end of the year, you would save $3,310.58 in electricity (Spend $1,103.19 with LED and $4,414.77 with HPS/ Metal Halide)
SAVE:

21,373.63

KG of Co2 (Carbon)

The replacement costs of failed HPS/ Metal Halide lights

Maintinance costs of replacement (and the headache)

Over the life of the LEDs you will save AT LEAST $36,410.38

THIS PRODUCT CAN MAKE YOU MONEY!
Also, There is plenty of Government Tax Incentives to use energy efficient lighting that will give you tax refunds and credits.
The obvious choice is to switch to Zurik LED landscaping lights today. We believe Zurik brand LEDs are the best 120w LED flood lights out there.
Features of 120w LED landscape lights

REPLACE 450 WATT HPS/METAL HALIDE
Bridgelux LED 45mil USA LED chips


No flickering/ Instant start up

No RF interference

No UV radiation

No mercury

60% less power consumption than traditional light sources

Very low heat emission

Great heat dissipation

Super bright illumination

Reliability

maintenance free for many years! Set and forget technology.

Lifespan >= 50,000 Hours

CE & RoHS compliant with UL listed transformer
Applications for 120w LED flood light
Outdoor lighting

Billboard lighting

Outdoor advertising


Tunnel lighting

Gas station lighting

Architectural lighting

Landscape lighting

Facade lighting

Square, Park, Wall of buildings, Church, Hotel, Bridge, Tree, Public area, Landscape etc.
Outdoor 120w LED Flood Light Specifications
| | |
| --- | --- |
| Model Number | 120-FL |
| LED Flood Light Power Consumption | 120 Watts |
| Package Contents | (1) LED Flood Light |
| LED Initial Flux | >11,000 Lumen |
| LED Type | Bridgelux LED 45 Mil |
| Power Factor (PF) | 0.95 |
| Power Efficiency | >94% |
| Color Rendering Index (CRI) | >85 |
| IP Rating (Waterproofing) | IP65 |
| Color Temperature | Natural White |
| Working Life | 50,000 Hours |
| Light Body & Lampshade Material | Aluminum House & Tempered Glass |
| Input Voltage | AC 85~ 265V |
| Frequency Range | 50~60Hz |
| Working Voltage | DC 24-36V |
| Lighting Angle | 120 º |
| Total Harmonic Distortion (THD) | < 20% |
| Working Temperature | - 40℃ - + 50℃ |
| Storage Temperature | 0℃ - 50℃ |
| Working Humidity | 10 % ~ 90 % RH |
| Junction Temperature | 70℃ ± 1 0% ( Ta = 25℃ ) |
| System Resistance ( Rja ) | 1.4℃ / W |
| Certificate | CE, RoHS, Driver UL passed |
| Warranty | Two years |
These Zurik LED flood lights are also known (by error) as Zurick model 120-FL, Zurick flood lights, or Zurich LED flood lights
LED flood lights have been widely used in Landscape Lighting, security lighting, and Facade Lighting etc. We recently had a Golf coursees in Florida, Texas, and California replace all their flood lights with LEDs and report back that they are saving a ton on money on electrical costs! The 120W LED flood light can be yours free if you want to participate in a case study for LED billboard lights and LED landscape lights. Little participation by you! info@flexfireleds.com