5050 Waterproof RGB Color Changing LED lights -150 RGB LEDs per reel
Need waterproof? We got you covered! Rated IP68, this if the highest waterproof rating available.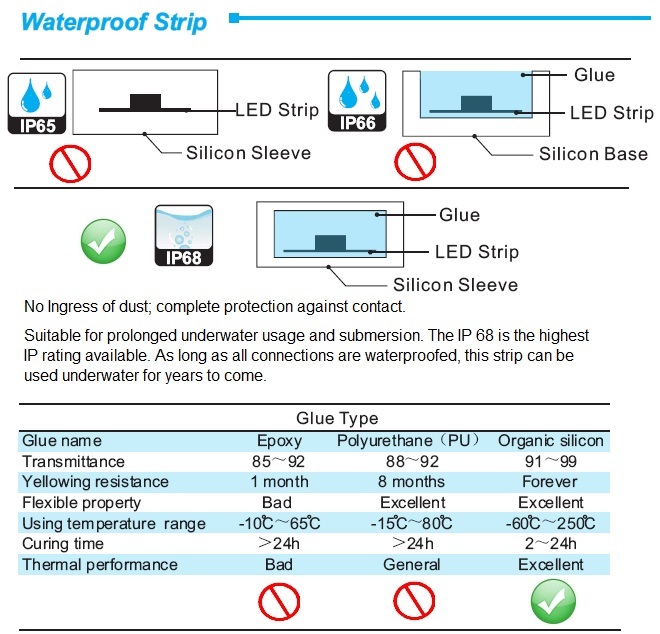 30/m Color Changing LED Light Strips sold by the Reel! RGB LEDs
1 Reel = 5 Meters, or 16.4 feet
5050 RGB Color changing LED lights can easily be installed and add may effects to your home, business, or vehicle. Each foot of our 5050 SMD LED flexible strip lighting uses only 2.2 watts per foot! You can bend the flex strip up to 90 degrees. This makes it very easy to install in corners, under cabinets, sofas, TVs, desks, gazeebos, and surrounding architecture.
These bright color changing LED lights use 5050 SMD LED chips and can change color at the push of a button! Choose from hundreds of color combinations with either a color changing remote control. These high quality flexible LED strips can be cut to desired length to illuminate under kitchen cabinets, kickboards, bar tops, under cars, LCD TV backlight, and more! Many customers are looking for flashing LED lights for their signage or businesses. Our RGB LED remotes come with a setting for "flashing LED lights" where you can control how fast the LEDs flash. There are also settings besides flashing LEDs such as color changing, dimming, color scrolling, fading, and more!
If you order the RGB flexible strip light, you will NEED a controller. NEW MiniXR LED RGB Strip Light Controller.
Technical Details and Specifications for:
5050 SMD 30/meter RGB Flexible LED strips

IP68 waterproof

RGB color changing flexible LED strip. A ton of color possibilities!!!

Flexible installation can be used on curved surfaces

12v DC constant

Fully Dimmable

120' degree wide angled beam

1200 Lumen per 16.4 feet

2.2 watts per foot!

36 watts per reel.

No hazardous materials such as lead and mercury!

NO UV emissions

150 SMD LEDs per 16 feet
SOME FAQ:
How to install RGB color changing LED strip lights - RGB tutorials
How long will the LED lights last?
Our RGB LED flex strip lights are rated at 50,000 hours. Thats a long time. Compare that to other lighting options!
Which Power source do I need?
The power source needed depends on the length that you cut the LED strip. Each foot uses 2.2 watts. Add the amount of feet together, multiply by 2.2, and you have the wattage used. You should add 20% more room in the power supply so take the wattage, and divide by .8 to get the power supply needed.
Example. 8 feet of RGB LED strip light. 8 X 2.2 watts = 17.6 total watts used. 17.6/.8= 22 watts. You need a power supply that will handle 22 watts.
Where are my RGB LEDs being shipped from?
ALL of our LED flex strips, LED controllers, LED adapters, and LED power supplies are assembled and shipped directly from northern California, USA.

Do I need any special tools?
With our solderless connectors, we make it very easy to DIY install LED strip lights. If you have some basic experience with electronics, you can also solder the ends yourself in no time.
How do I mount them where I want them?
3m double sided adhesive that is attached to the back works best! If you want something extra secure you can always add super glue or zip-ties will also do the trick. For most surfaces the 3M tape provided is sufficient.

Can I order in bulk and cut them myself?
LED strips are made to be cut to your desired length! Cut after every third LED.