Replacing 101: Golf course LED lights - LED flood lights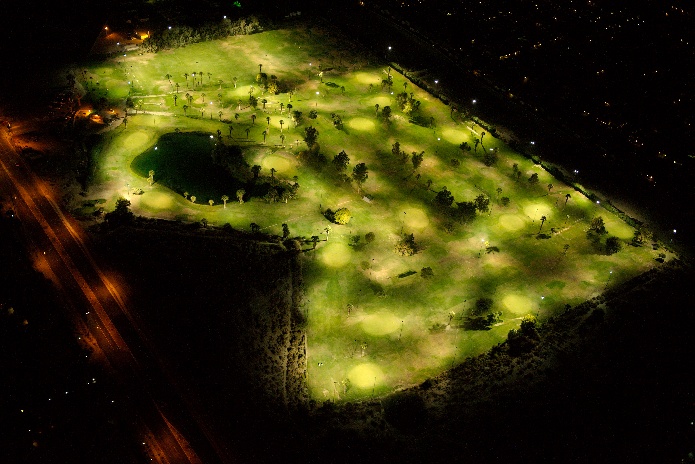 What are LED Lights?
A light-emitting diode (LED) is a semiconductor light source. LEDs are used as indicator lamps in many devices and are increasingly used for other lighting. Introduced as a practical electronic component in 1962, early LEDs emitted low-intensity red light, but modern versions are available across the visible, ultraviolet, and infrared wavelengths, with very high brightness.
What is a Golf Course LED light?
An LED golf course light is simply an LED flood light that is widely used for the lighting of golf courses and other public areas. Application of this outstanding product can provide its guests and competitive players with the opportunity to play into the night while reducing the carbon footprint and fixed costs of the space. The light source is cool white similar to sunlight. This allows for clear illumination of a wide area and makes is particularly suitable for lighting gold courses (and other sports fields).

Golf Course LED lights have become one of the most sought after lighting systems for contractors and businesses and more people are now moving toward this trend. Golf course LED lighting can provide your golf course or country club a great look with less cost. A Gold course using LED lights will consume 40-70 % less energy than one operating without LEDs. With Golf Course LED flood light replacements your golf course or country club will be able to offer more playing options to your customers and reduce your carbon footprint, all while saving you money!! It is a win-win. These lights can also be used for sports stadiums or to illuminate playing fields in city parks or schools.
Saving Money and Energy
The key strength of golf course LED flood light replacements is reduced power consumption. For example, if a 100 Watt incandescent bulb is used for 1 year, with an electrical cost of 10 cents/kilowatt hour, $88 will be spent on electricity costs. Of the $88 expense, $70 will have been used to heat the room, not light the room. If an 80% efficient LED system had been used, the electricity cost would be $23 per year - there would be a cost savings of $65 on electricity during the year. Realistically the cost savings would be higher as most incandescent light bulbs blow out within a year and require replacements whereas LED light bulbs can be used easily for a decade without burning out.
The other ordinary standard--fluorescent light bulbs--are also widely inefficient as compared to Golf Course LED lights. Flourescent bulbs are not very long lasting, they heat up very quickly, and they require more energy to create a lighting effect similar to the Golf Course LED light. Therefore one can save on electricity bills and also help to protect the environment by using LED Flood Lights.
Top 8 Notch Benefits for using Golf Course LED lights
Golf Course LED lights are less energy consuming which saves you money.
LED lighting offers more flexibility--if you want something lit, LEDs can do it.
LEDs can be used both indoor and outdoor.
LEDs come in a variety of colors (i.e., red, green, and blue) and even have color changing options so you can provide the ideal ambiance for each particular area or event.
LEDs are available in different power consumption categories like 20w, 30w, 40w etc.
LEDs are low-voltage.
You can go 20 years without having to replace a golf course LED flood light.
The future is in LEDs!