3 Foot LED RGB Strip Light Kit - Double density RGB "300 series"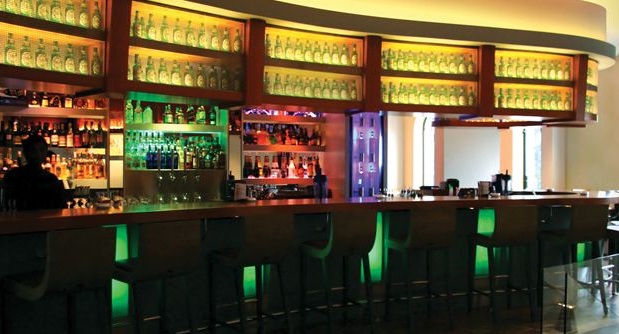 Features and Benefits . Why would you want RGB LEDs?
1. Our 300 double densigy 5050 SMD LED flexible strip lighting uses just 4.4 watts per foot.
2. Our LED strip lights can change into almost any color!
3. You can bend the LED strip light up to 90 degrees.
This makes it very easy to install in corners, under cabinets, and surrounding architecture.
4. Our LED solderless connectors enable our clients to install the product without a background in Electronics.
5. How is the 300 different than the 150 series?
Simply put, there are twice the amount of LEDs. THough the 300 will use more electriity, it is twice as bright as the 150 series. For LED strip applications where you will need a very intense color changing light, the 300 LEDs per reel will do more than you expect.
Typical Applications for RGB Strip light kits

TV backlight kit or computer monitor kit

Accent under bottles in bars or restaurants

Mood lighting inside hotels and bars

Inside signage for businesses

Mall displays and storefronts

Lighting for lofts

Create a unique game room or movie theater

Bathroom mirrors and behind toilet lights

Under furniture such as raised couches
This LED kit includes:
(1) 3 foot section of RGB 300 LED Strip Lights
(1) 12V-DPS-2 24W Desktop style power supply
(1) The Tiny (a very small RGB controller and RF remote)
(1) Pin to Snap Connector (for connecting the controller to the strip lights)

(1) Strip to Strip RGB Snap Connector


This 3 foot LED kit is perfect for most smaller RGB LED lighting projects such as accent lighting and backlighting. It is also a great way to test our the RGB 300.

The 3 feet LED RGB strip light kit can be cut every third LED, and because this is a double density RGB LED strip, you get twice the brightness as the other LED kit available in RGB. With our solderless connectors and the 3M backing, you can easily attach the RGB LEDs to just about anywhere.
Why use RGB LEDs ... and better yet, what is an RGB LED kit
LEDs, or Light-Emitting Diodes, can come in a variety of colors. There are pure white LEDs, Red LEDs, etc. RGB LED chips use three different colors, R (Red) G (Green) and B (Blue), in different sequences to create many different colors. The LED RGB Remote that comes in the LED kit changes the brightness of each of the three colors to make any color possible.
Specifications on the RGB 300 LED light strip
12v DC constant

Fully Dimmable

120' degree wide angled beam

4.4 watts per foot

No hazardous materials such as lead and mercury!

NO UV emissions

300 RGB LEDs per 16 feet

CE and RoHS certified
If you are just looking for RGB LED strip lights by the foot, then check out the product here